A talented
America's Got Talent
contestant, whose gift for singing made him an instant standout, was involved in a
tragic automobile accident in June
.
Sadly, the stunning performance of
AGT
contestant Dr. Brandon Rogers, 29, had not even aired yet before he had passed away.
After covering Boyz II Men's hit song "On Bended Knee" on his Instagram account, producers of the hit talent show reached out to Brandon to ask him to consider auditioning. Boyz II Men also took notice of Brandon and even invited him to sing onstage with them during one of their recent shows.
It was a dream come true for Brandon to be able to sing with his dream idols. He shared the performance on Instagram and wrote: "This past weekend has been nothing short of amazing!! Sharing the stage with my idols…literally a dream come true!! Thank you SO much to 3 of the dopest most insanely talented singers ever @BoyzIIMen!!"
The friend who was driving "America's Got Talent" contestant Dr. Brandon Rogers early Saturday ... nodded off before he veered off the road into a tree ... TMZ has learned.
According to the crash report ... the driver told Maryland State Police he was tired and fell asleep. He drifted onto the right shoulder, went off road and struck the tree. The driver told cops he'd recently finished a long shift at work.
We broke the story ... Brandon was riding in the front passenger seat. The driver and another friend, riding in the backseat, survived ... Brandon died from his injuries Sunday in a hospital.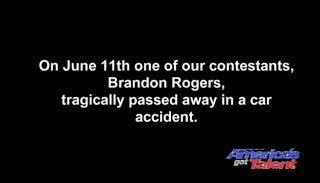 What a fine, humble young man with a great voice!
Aww, and he had a standing ovation, even from Simon Cowell.
RIP Brandon!!! 💔💔💔