Member of Parliament for Newcastle Central, Chinyelu Susan "Chi" Onwurah has declared that she is not a Nigerian but British.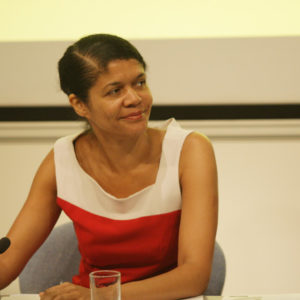 The Labour Party politician stated this at the 2017 Caine Prize for African Literature ceremony held yesterday night in London.
According to Nigerian journalist and writer, Molara Wood, when told of Abike Dabiri-Erewa's congratulatory letter, she said:
"I am not Nigerian; I am British"
Last month, Abike Dabiri, the Senior Special Assistant to President Buhari on Foreign Affairs and Diaspora released a congratulatory letter addressed to Chinyelu Onwurah and 6 other British-Nigerians elected to the UK parliament.
According to her, "this electoral victory shows that Nigerians excel anywhere in the world."
Chi Onwurah, MP insists she is British. She was born in Wallsend, Newcastle upon Tyne. In 1965, her family relocated to Awka, Nigeria but soon returned to Newcastle in 1967, following the out
break of the Nigerian civil war.
Of herself, Onwurah says: "I was born in Wallsend, grew up on Hillsview Avenue in Kenton and went to Kenton School before studying Electrical Engineering in London. I have lived in many different cities around the world, without ever for a moment forgetting where I am from: Newcastle. My values and beliefs were formed in Newcastle based on the people I grew up with and my own experiences."