Acting President Yemi Osinbajo on Monday in Abuja, received in closed doors Pakistani rights activist for girl-child education and Nobel Peace Prize winner, Malala Yousafzai, in the Presidential Villa.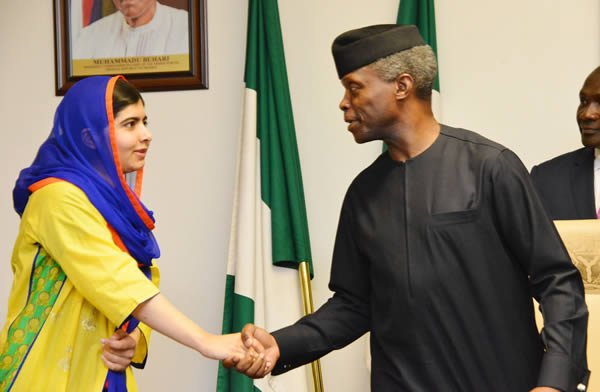 The 20-year-old Malala, who was accompanied by her father, Yousafzai and other members of the Malala Foundation, arrived at the presidential villa at about 5.30 p.m. Education rights campaigner Malala Yousafzai has said that there should be a "state of emergency on education" in Nigeria, the Reuters news agency reports.
Nearly half of primary-aged children, some 10 million children, are not enrolled in school in Nigeria, Reuters quotes state figures as saying.
Addressing journalists in the capital Abuja after a meeting with the acting president, Malala said spending on education at a federal and state level should be made public.