A married father-of-two and a Moroccan-Libyan 30-year-old can now be revealed as two of the London Bridge terrorists who murdered seven people in the capital city massacre.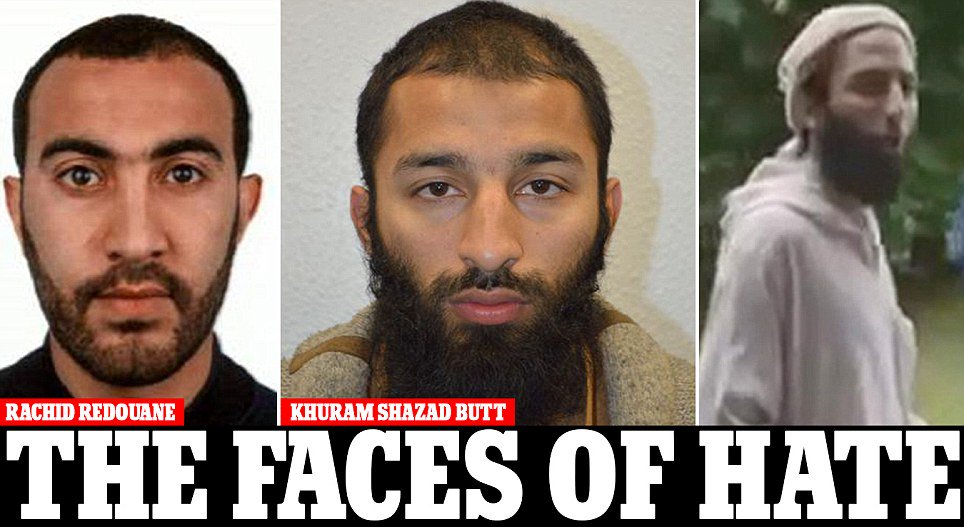 The killer in an Arsenal shirt can today be named as British extremist Khuram Butt who was filmed unfurling an ISIS flag on national TV and was reported to the police twice but still managed to launch murder on Britain's streets.
Butt, 27, a married father of two nicknamed 'Abz' who was born in Pakistan, was so extreme he called fellow Muslims without beards non-believers, would not speak to women directly and was banned from a mosque for berating worshippers for being 'un-Islamic'.
It also transpired tonight that he launched a vile torrent of abuse in the wake of the murder of Lee Rigby when he volleyed threats at a leading Muslim figure for speaking out against the brigadier's murderers Michael Adebolajo and Michael Adebowale.
The soldier was butchered outside barracks in Woolwich with knives back in May 2013 much in the same way Butt's victims were killed in the same city.
He was known to both the police and MI5 who are awaiting what they described as international confirmation before naming the third terrorist.
Football fan Butt, who worked at KFC and Transport for London, wore an Arsenal shirt under his fake suicide belt as he and two friends crashed their van into crowds on London Bridge before slashing at people with large knives murdering seven people and leaving 48 injured on Saturday night.
One of the friends has been named as Rachid Redouane - believed to be a pastry chef living in Ireland having married a Scottish wife - who was not on anyone's radar as a terrorist and also used the name Rachid Elkhdar, claiming to be six years younger.
Two of the three terrorists - Khuram Butt (left) and Rachid Redouane (right) - who massacred seven people in a rampage which started on London Bridge on Saturday night.
Khuram Butt, 27, a married father of two, appeared on the Channel 4 documentary The Jihadi Next Door (left) and wore an Arsenal shirt (right) as he and two friends crashed their van into crowds on London Bridge before slashing at people with large knives murdering seven people and leaving 48 injured