British Prime Minister Theresa May defended London Mayor Sadiq Khan during a Monday press conference after President Trump attacked Khan in a series of tweets.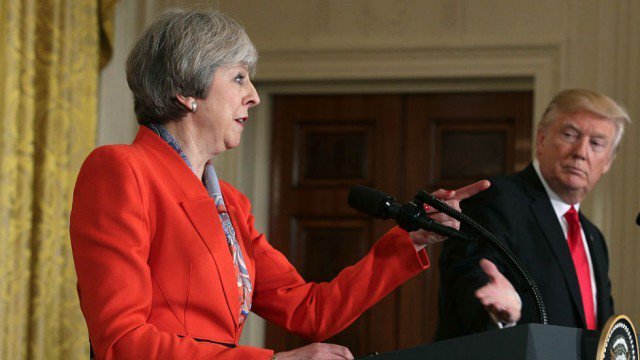 "Sadiq Khan is doing a good job and it's wrong to say anything else," May told press. "He's doing a good job." On Sunday, following a terrorist attack in London, Trump took to Twitter to lash out at Khan "At least 7 dead and 48 wounded in terror attack and Mayor of London says there is 'no reason to be alarmed!'" Trump tweeted, in reference to Khan's statements that Londoners should have "no cause for alarm" if they observe an increased police presence in the immediate aftermath of the attack. A spokesperson for Khan responded to Trump's Sunday tweet, pointing out that Khan's statement had been in reference to London's police presence.
On Monday, Trump doubled down on Khan. "Pathetic excuse by London Mayor Sadiq Khan who had to think fast on his 'no reason to be alarmed' statement," Trump tweeted. "MSM is working hard to sell it!" Trump and Khan have previously sparred on Twitter. After Khan's election last summer, the mayor tweeted that Trump's "ignorant view of Islam could make both our countries less safe. It risks alienating mainstream Muslims." Trump responded during a televised interview by

challenging Khan to an IQ test

.