Abu Dhabi Police have released CCTV video of the moments before an 11 year old boy was brutally murdered on a roof top in Abu Dhabi.
The boy was lured to the rooftop by a man dressed as a woman, which is shown in the video.
Th

e man allegedly raped and strangled the boy on the roof top, and confessed the crime to police after servicemen found the boy's body on the rooftop.
The boy's father is from Pakistan and his mother is Russian.
The video shows the man entering the building wearing ladies' clothing a

nd hijab.
Watch:
جريمة اهتز لها الضمير الإنساني.. "القاتل المنقب" وكيف انتهك براءة طفل وقتله.. علوم الدار تتناول تفاصيل الجريمة بفيديوهات حصرية قريبا

pic.twitter.com/PzdBpdewcP

— علوم الدار (@oloumaldar) June 9, 2017
The 33-year-old Pakistani man is in police custody awaiting trial.
This man was arrested in Abu Dhabi for dressing as a woman: Read that 👉

HERE.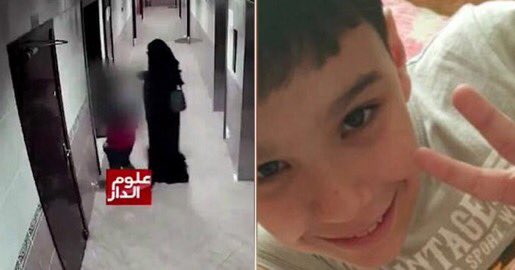 The boy's father, Dr Majid Janjua, said the 11-year-old was found dead next to his Quran