The adultery scandal involving the General Overseer of Omega Fire Ministries, Apostle Johnson Suleman and a Canadian-based musician, Stephanie Otobo, is getting messier.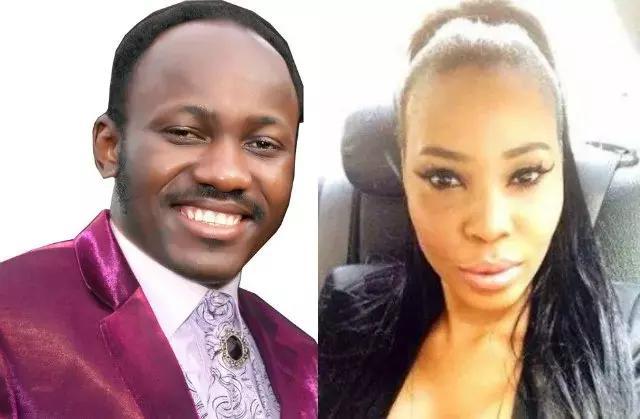 She has released a copy of her statement of account showing heavy payments made by the " man of God" to her.
Otobo has been prompted to disclose the account details to prove that she was in a relationship with the pastor who has been denying the affair.
In a video clip uploaded online, Otobo presented the document, which showed a series of huge deposits made by the cleric into her account.
It was to back up her claims, that Apostle Suleman had sent her money several times. She had also said he gave her all the money he made when he held a program in Napoli, Italy.
In the new video, Otobo showed proof of money transferred to her account by Apostle Suleman, including one of $200,000.
She also stated that she would release her call logs as further proof.
Otobo, the accuser of General Overseer of Omega Fire Ministries (OFM), in an interview with Worship Media based in Canada, presented a copy of her statement of account reflecting huge deposits by Suleman to support allegation of adultery against the Auchi-based cleric.
Otobo alleged Suleman at different times transferred N200,000, N900,000 and N1 million to her account.
The statement of account, as seen in the video, reads a transfer of N900,000 on July 22, 2015.
The transaction was recorded as 057033150722165653000037928190 in the displayed bank statement.
There was another transaction that reads transfer of N1 million from Apostle Johnson Suleman on 14th September, 2015.
Otobo claimed she met Suleman in 2015 through a friend who got married after a prophecy by the cleric.
Her friend, she said, told her Suleman revealed the man she eventually married was the right fit for her.
Otobo said Suleman later requested for her BBM pin after which he asked her to be his girlfriend.
But Otobo, in the interview, was overheard agreeing with the interviewers that some other transfers cannot be proven, casting doubts on the authenticity of the statement.
The media office of Suleman was unavailable for reactions yesterday.
The media outfit also stated Otobo has agreed to release her call logs to prove she had more a passing acquaintance with Suleman.
Sahara Reporters yesterday released what they alleged was a chat between Apostle Suleman and accused blackmailer, Stephanie Otobo, though nothing in the chat shows it was written by Apostle Suleman. It's a chat between someone called Apple and Queen Elena, which really is Mr and Mrs Nobody.