Speechless!
Lord please, please take control, P-L-E-A-S-E!
Indonesian search officials have now confirmed they have located the fuselage of AirAsia flight 8501 on sonar radar, upside down on the sea floor.
Officials from Basarnas, Indonesia's search and rescue agency, say the plane wreckage has been located in 24 to 30 metres of water and one of the six confirmed recovered bodies was wearing a life jacket.
Before darkness fell in the area, search teams had also identified a shadow that they believed to be the plane's fuselage.
Many of the remaining victims are thought likely to still be on board the aircraft but wind, strong currents and high surf has hampered recovery efforts on Wednesday as distraught family members anxiously waited to identify their loved ones.
It comes amid revelations from a pilot involved in the search, that three people killed on the AirAsia flight were holding hands when their bodies were spotted floating in the Java sea off Indonesia.
Lieutenant Airman Tri Wobowo, who co-piloted the C130 Hercules aircraft that first saw debris of the plane on Tuesday, told Indonesian newspaper Kompas: 'There are seven to eight people. Three [of them] again hold hands.'
Since the wreckage from the plane was discovered off the coast of Borneo Island, after three days of searching, there have been a number of different body counts from several official sources.
However, the chief of Indonesia's search and rescue agency, Bambang Sulistyo, has confirmed that six bodies have been recovered including two males, along with one female who was wearing a flight attendant uniform.
He said half of those found were male and half female, including the flight attendant.
On Wednesday, divers were deployed, but heavy rain and clouds grounded helicopters, Sulistyo said.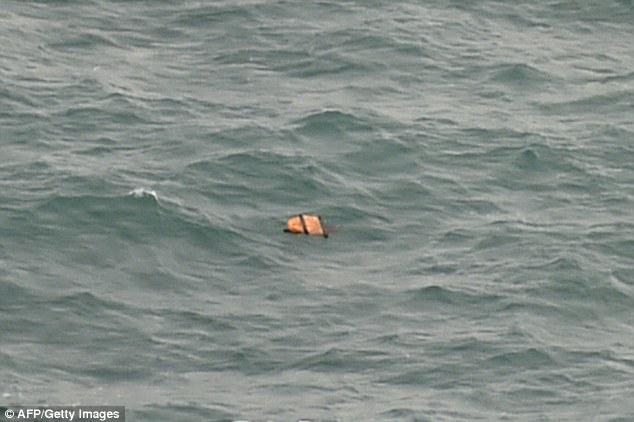 Officials increasingly confident that debris is from missing AirAsia flight QZ8501