Some days ago, House Leader at the Federal House of Representatives, Hon. Femi Gbajabiamila threw a
lavish birthday party
for his wife of many years, Yemisi whom he also gifted a glittering brand new Benz G-Wagon valued at over N100 million to mark her 50th birthday.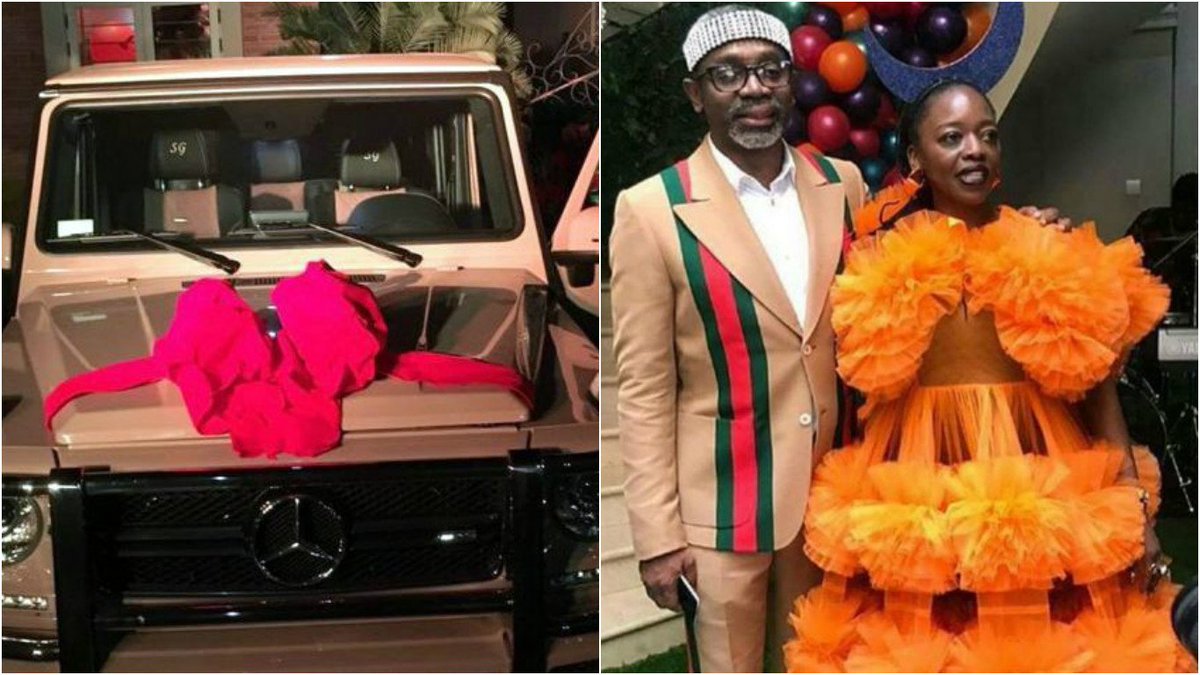 Nigerians went online to vent their anger at the Gbajabiamila's extravagance when many Nigerians are living in poverty.
According to sources, Femi wrote this apology note and sent it to his Law School group on Whatsapp:
"My dear "friends" I thank you for all your comments.
I ordinarily was going to keep a dignified silence on this whole sordid matter and indeed I have. This is the first comment I am making in all of this. I honestly thought this was a platform of classmates and of lawyers. I thought the legal training was that there were 2 sides to every story and maybe sometimes even a 3rd. Many have said you're only saying the truth but I don't know how one gets to the truth by hearing only one side and not giving the benefit of doubt but passing a hurried judgment. I would have expected those who seek the truth to reach out even if privately like Frank did. 3 of our classmates were at this very small private gathering of family and friends namely Candido Johnson Mike Igbokwe and Folabi Martins.
Now What are the issues
1. My wife of 26 years who I love to death turned 50 and I decided to do something special for her. Her 50th did not happen unexpectedly. I knew a couple of years God sparing her life she would turn 50 and I prepared for it. This is a woman who has been with me through thick and thin and stood as a pillar of support and who at one time was the breadwinner. Hell I may even have saved up for it or sold an old car to make up the numbers you guys do not know. I believe the cost of a vehicle pales into insignificance when you consider the sacrifices our wives make on the daily.
2. We are all educated and can look up the cost of the car. Not even half of the 100m in social media.
3. What I wear is non of y'alls business as I'm sure there will be people who's attire or jewelry or shoes on this platform I may not like but will not deride them for it.
4. I had a year to plan for this and I did.
5. We had a family gathering and few friends of about 30 in all in my house for thanks giving and prayers. It was a breakfast get together. My wife's pastor prayed Gave a sermon, praise n worship and guests had breakfast. The whole affair was meant to have ended by 6. Unfortunately some people came after work as it was a weekday.
6. I purchased my wife's car from the US and unfortunately the car was delayed at the ports for 4 days. She was meant to get her gift at midnight of her birthday in the privacy of our home.
7. I called Mr Folabi Martins the day before her birthday ( he happens to be the lawyer to Maersk the shipping co) and he made frantic efforts to call the md.
8. Man proposes God disposes and there was little I could do the car never came.
9. It came as a surprise to me when the car was driven by the agents into my compound at 7.30 pm with a few guests and my family members still present. There was little I could do.
10. How the above facts can draw such vitriol from this platform shocks me to the marrow but then like they say it is what it is.
11. My "brother" who commented above that I crave publicity or wanted this on social media I'm sorry we may be classmates but you do not know me.
12. Guys I have paid my dues in this country. I did not gift a car to a girlfriend like many do. I gave it to my WIFE!!
13. Now assuming this was a public display which it most certainly wasn't does it warrant the things I am reading on this platform the extent of venom and crucifixtion from you guys ? Or is there something else here ?
14. I must say a big thank you to Frank and to Afolabi who has called me severally and stood in support. I also thank you Mike Igbokwe for the staunch support you put up on anothe platform of yours.
15. I am surprised that no one here is discerning to see that this is a political hatchet job but I will continue to focus on my work.
Enough said.
God bless our class of 84.
~ Femi Gbaja
Another report had it that Femi said/wrote:
My attention has been drawn to the extensive reports especially on social media regarding the presentation of a gift to my wife and best friend in celebration of her 50th birthday anniversary. Naturally I had anticipated this occasion for quite a while and prepared by saving up for it in the last couple of years. I took the decision far back to present her with a significant gift, she was totally unaware of, to convey in part, the debt of my gratitude to her for standing by me through 'thick and thin'.
I could never have been half the man I am today without her support and unbelievable understanding. Truly, the monetary value of any gift real or imagined, pales in significance when I consider how much of a 'rock and pillar' she has been to me. The presentation of the gift contrary to public perception, was to be a family affair in our home but it suffered some delays finally arriving when a number of guests were in to celebrate with my wife. It still would have remained a private affair, but I guess we underestimated the power of social media and very excited friends. Having said this, I understand and appreciate the reaction of the public.
As a public official, one must be held to a higher standard. My action was not meant to offend sensibilities and I regret that it did. Being a leader in many spheres, I can very well understand the optics of it. But I would rather want it to be seen as what it is. An expression of deep appreciation and love for my wife of almost thirty years, rather than one of flamboyance. I remain truly committed to my values of improving lives for my constituents and Nigerians at large.
As the records will show, I have consistently expended much more in achieving this goal especially within my constituency, than I spend on my wife.
I thank you for your understanding.
Hon. Femi Gbajabiamila
P.S
These are unconfirmed reports.
Photos: Nigerians slam Femi Gbajabiamila for giving his wife #Assurance of Benz G-Wagon & thingz
.