The Clive Davis's annual pre-Grammy Gala is supposed to be about celebrating artists, but at the event on Saturday evening, all hearts and minds were focused on Bobbi Kristina Brown and her delicate condition.
Magic Johnson, who was set to introduce the man of the evening, Davis, asked the packed room of music industry luminaries at the Beverly Hilton to, take,"Ten seconds for Bobbi Khristina…", only to follow up with a hint of surprise after the room fell still with, "That's hard in Hollywood, to get ten seconds of silence."
Faith Evans, who worked closely with Brown's late mother,

Whitney Houston

, and whose own daughter is friends with Bobbi Kristina reflected on the news, "It's definitely sad."
"My heart goes out to them [but] I can keep praying," she told PEOPLE on the red carpet. "I do believe in miracles, and hopefully she pulls through."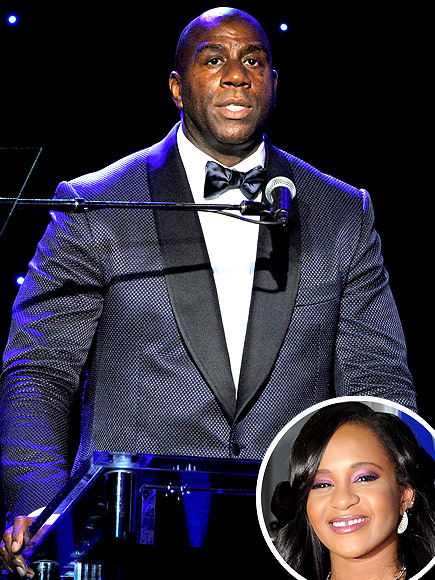 Bobbi Kristina's boyfriend
Nick Gordon
is scheduled to appear in court tomorrow, Monday Feb.09, 2015 for reckless driving charges dating back to 2012.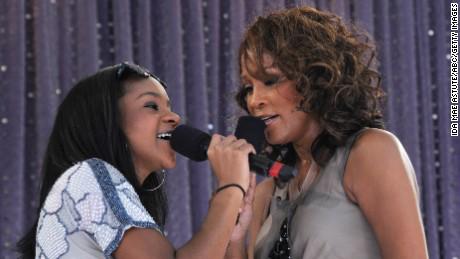 According to the Daily Mail:
A warrant for his immediate arrest will be issued if he does not turn up at Fulton County State Court in Atlanta at 9am.
This news comes in days after Bobbi Kristina was found unconscious in a bathtub and hours after her boyfriend became the number one suspect in authorities' criminal investigation. Gordon was caught driving over the speed limit several times in 2012 and when he was stopped, officers claim he was playing

Whitney Houston

music.
Meanwhile, the family of Bobbi Kristina is discussing funeral plans for the 21-year-old but things aren't going smooth, according to new reports.
TMZ explains:
Sources connected with the Brown family tell TMZ … they are a united front to this extent — they refuse to be disrespected the way they feel they were at Whitney's funeral.
You may recall …
Bobby Brown
stormed
out of the funeral
after security refused to let him sit with Bobbi Kristina during the service. Bobby told us at the time … he was also furious the Houstons were angry that he dared to bring 9 members of his family with him.
We are still praying for Bobbi Kristina's recovery, there's absolutely nothing God can't do!