Dozens of armed police have surrounded the Charlie Hebdo killers after they seized a hostage and are now holed up on an industrial estate near a Paris airport.
Al Qaeda brothers Cherif and Said Kouachi have been cornered in a village 25 miles from the capital after exchanging gunfire with police on a dramatic car chase this morning.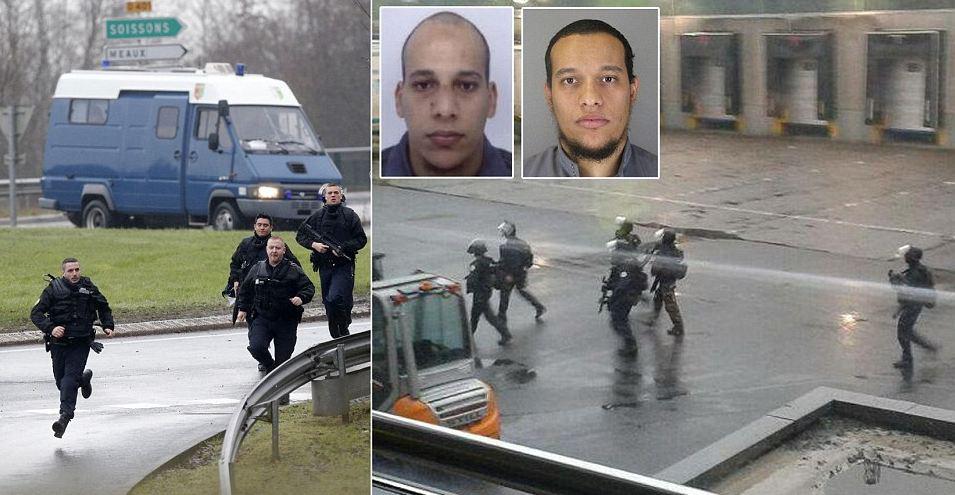 Officials denied earlier reports that two people had been killed during the operation, but confirmed a hostage had been taken.Negotiations are now underway with the Islamic fanatics, who massacred 12 people at the officers of the satirical newspaper on Wednesday.As helicopters hovered overhead, France's Interior Minister Bernard Cazeneuve said: 'A police operation is underway.' Flights into the nearby Charles de Gaulle international airport have been aborted due to its proximity to the siege, around five miles away. The suspects were holed up in a small printing business named Creating Trend Discovery, a source close to the investigation said. 'It's not sure how many people are inside,' the source said.Prior to the standoff, the suspects had hijacked a Peugeot 206 in Montagny-Sainte-Felicite from a woman who said she recognised them as the wanted men, a police source said. The two suspects spoke to officers by phone and said they wanted to die as martyrs, according to a French member of parliament for the district where a police operation is taking place.Yves Albarello, who is in the Dammartin-en-Goele area where officers are hunting for the suspects, was speaking on French channel iTele.